Why Hiring a Professional Graphic Design Company is Crucial for Your Business Success
In today's business world, graphic design is an essential component of any successful company. From billboards and advertisements to product packaging and business cards, graphic design plays a crucial role in conveying a message to potential customers. A well-designed website can also attract the attention of your target audience and leave a lasting impression.
When choosing a graphic design company, it's important to start with logistical questions such as your goals, budget, and desired timeline. Once you have a clear understanding of these factors, you can begin to consider the following tips to help you choose the best graphic design company in Delhi NCR.
Reason you should consider working with a Graphic Design Company
By partnering with a professional graphic design company, you can ensure that your company's brand remains consistent and recognizable. Have you ever wondered who was behind the creation of your favorite company's logo or other designs? More often than not, it was the work of a skilled graphic design team. A professional graphic designer can help establish and maintain brand awareness by ensuring that all communications, both print and online, are consistent with your brand's identity.
Advantages of hiring a Graphic Design Company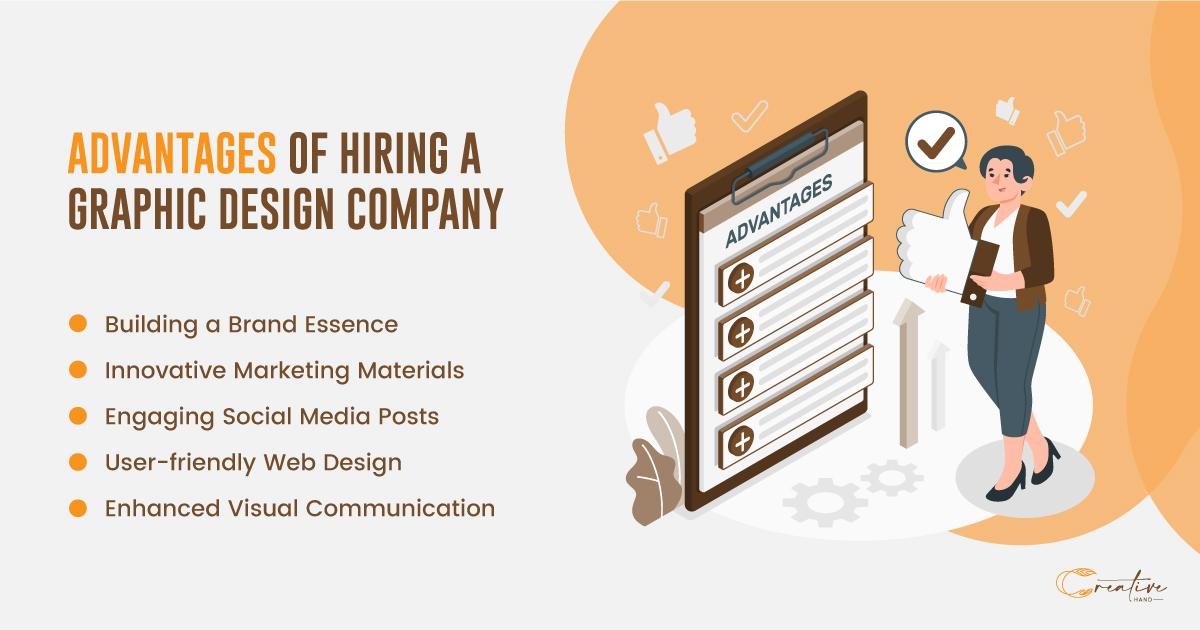 There are many key advantages to hiring a graphic design company for your business:
Building a Brand Essence:

A graphic designer can assist in developing a polished and unified visual brand identity for your company. Everything falls under this category, including the appearance and feel of your website, marketing materials, and logo design. Building trust and credibility with your customers requires a strong visual identity, and a professional graphic designer can help make sure that all of your visual communications are effective and consistent.
Innovative Marketing Materials:

Designing brochures, business cards, billboards, and other promotional materials that are eye-catching and on-brand is one way a graphic design company can assist in creating marketing materials that effectively promote your company and its goods or services.
Engaging Social Media Posts:

In the modern digital environment, it is crucial to reach and engage clients with captivating visuals for social media and other digital marketing channels. A professional graphic designer may assist with this. The posts not only look good, but they also help you accomplish your business objectives. They may assist you in developing designs that successfully communicate your message and are optimised for your target audience. This can include developing infographics that explain complex concepts, making effective call-to-action buttons for your website, and employing data visualisation to show information clearly and interestingly.
User-friendly Web Design:

An intuitive and user-friendly interface can be created for your website and mobile applications with the aid of a graphic designer. A positive user experience, which can raise client happiness and loyalty, requires a well-designed user interface. They may assist in making sure that your website and mobile applications are user-friendly, visually appealing, and consistent with your brand.
Enhanced Visual Communication:

Whether for internal meetings or public events, a graphic designer may assist in creating aesthetically appealing and efficient presentations. A properly-designed presentation can be a strong tool for expressing your company's main themes and value proposition, as well as for engaging and educating your audience. In addition to designing any accompanying handouts or other materials, a graphic designer may assist in producing aesthetically appealing and effective presentations.
A graphic designer may also save a company time and money in addition to these advantages. It might take a lot of time and effort to produce graphics of a high calibre, especially if you have no prior design expertise.
Tips to help you choose the Best Graphic Designer Company in Delhi NCR
Talk about the following thing with the creators and their company.
Be clear with your goals and expectations

Know what types of skills to look for

See how candidates think on their feet

Don't rely on portfolios alone

Consider a trial project to start

Request a short video chat interview

Ask what will be required from you

Explain your brand and target audience clearly

Look for relevant industry experience

Talk about the designer's inspirations
Companies that provide website design services often employ both full-time and freelance designers. By following these tips, you can choose a professional graphic design company in Delhi NCR that will help your business stand out and succeed.
Overall, a business may gain a lot from hiring a Best Graphic Designer Company in Delhi NCR. It helps a company project a polished image, deliver its message clearly, and conserve time and money. Additionally, supports the company's success in today's cutthroat industry with its knowledge and creativity.
If you're searching for a trustworthy design company to establish your brand, look no further. Creative Hand is here to help your business stand out.